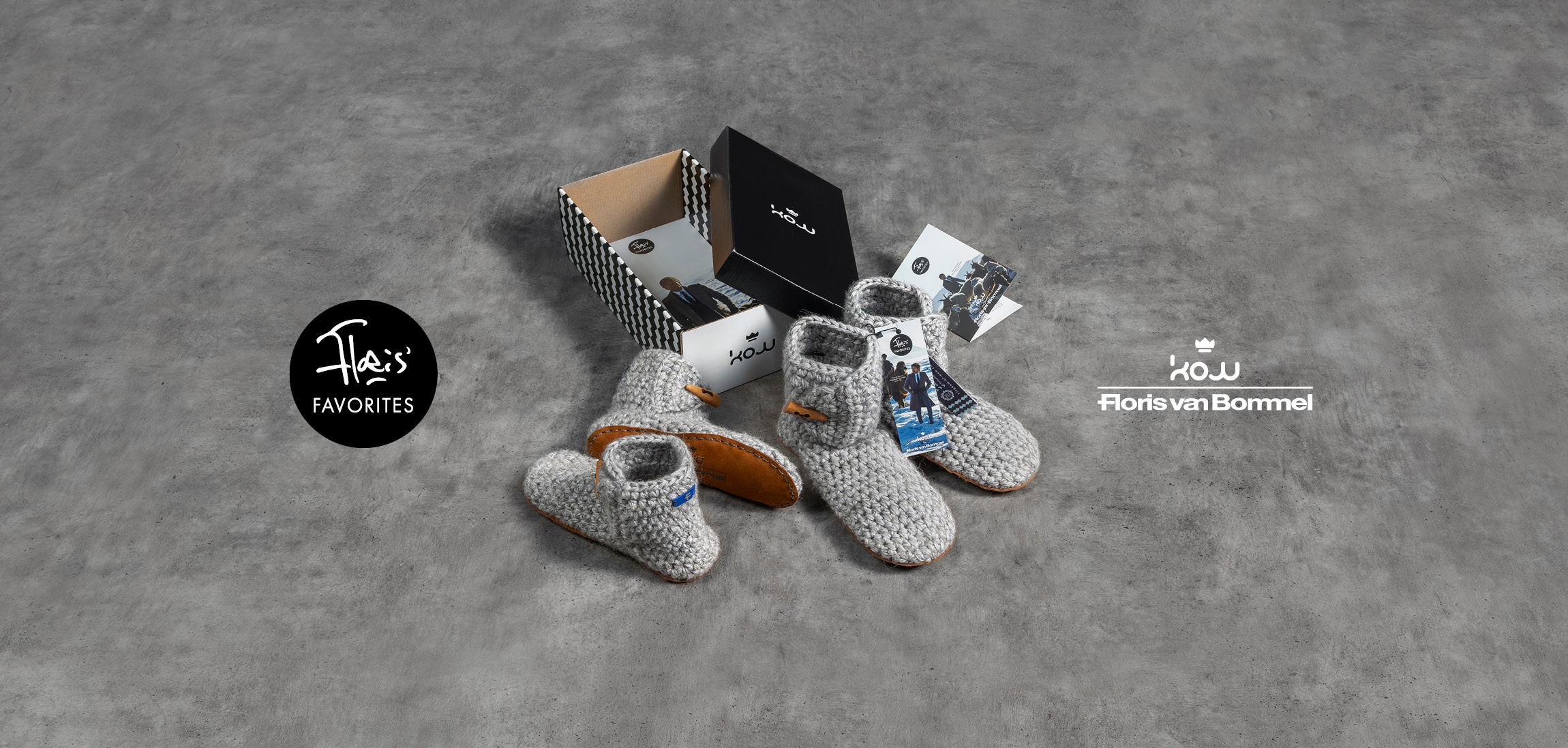 Kingdom of Wow!
Floris: "I am addicted to slippers. Okay, I've said it. Every autumn, but sometimes also in the middle of summer, I surf the entire Internet in search of the perfect slipper. I have really tried everything, expensive and cheap, from the respectable German brands to those big fluffy 100% woollen slippers. During my latest slipper hunt, I ended up at 'Kingdom of WOW'. A Dutch fair-trade slipper and espadrille brand that produces its goods in Cambodia. After ordering my pair, I came into contact with owner Godie. She asked me how I liked them. I told her about my slipper obsession and that my pair of K.O.W.s came quite close to perfection. Fast forward to now: ta-dááh! A tremendous honour... the 'Kingdom of Wow for Floris van Bommel' slipper! I can wholeheartedly recommend them, and that's no commercial chit-chat :). They fit perfectly, they are nice and warm (but not too warm), have a nice fit around the heel, the suede outsole is absolutely heaven, they are even biodegradable, and the makers in Cambodia earn a 'fair wage' producing them." THIS IS SLIPPER!
Women's and men's slippers
Kingdom of Wow! for Floris van Bommel
Floris van Bommel proudly presents Kingdom of Wow! slippers in his personally chosen collection of Floris' Favorites. A Floris exclusive, these soft grey wool slippers for men and women are made with a touch of Floris flair. A funky blue suede Floris-tag is handsewn onto each slipper and the soft suede sole also gets a true Floris branding.

About Kingdom of Wow!
Ethically handmade footwear
Kingdom of Wow! is a Dutch brand that is known across the globe for its ethically made footwear. Their slippers are handmade with biodegradable materials, a rich blend of wool and bamboo yarn, in a fair and empowering work environment in Cambodia. Each pair is crocheted by hand by Cambodian women who are paid an honest wage to do so. They create sustainable footwear to wear around the house, that combines luxury and comfort.


Floris: "To keep it fresh, occasionally we take a little trip, and draw inspiration from far beyond our shoe bubble for a limited edition. Throughout the years, we have worked with a colourful mix of companies and people. The only similarities we always go for are quality, craftsmanship and skill. In the broadest sense of the word."